Summer Shop Thoughts - the highs, the lows and everything in between!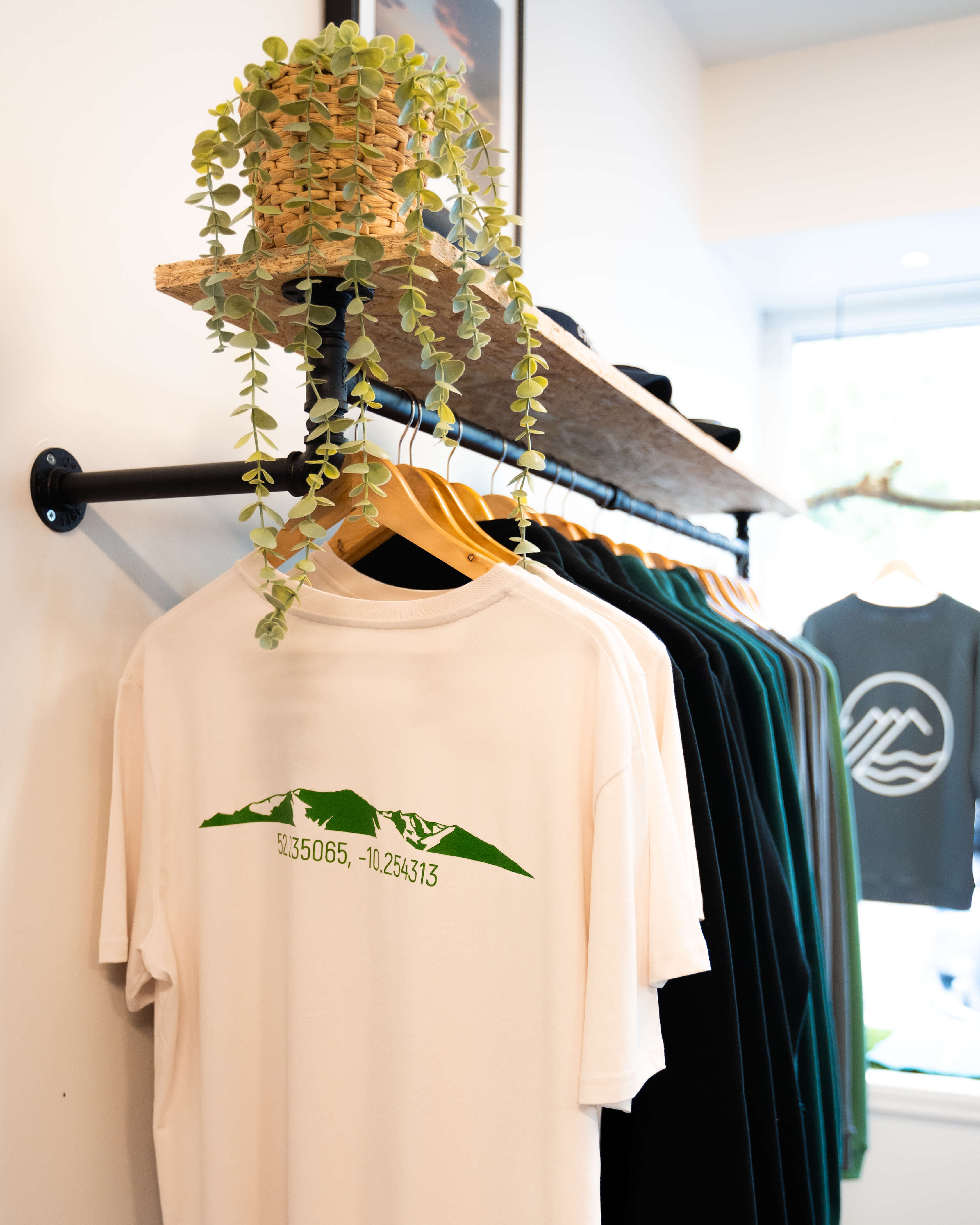 This is Outwest's first full summer with a retail store in the heart of Dingle town, and like other business owners in tourist towns, it feels like a week long rest is needed. I took a morning to reflect on some of the experiences we had over the last number of months
Not every product is going to be a bestseller 
Creating garments from scratch is hard. Between fabrics, fits, colour, graphics, there's a lot of moving parts. You create a bestseller when all those things line up at once, which feels like one in a million sometimes. And this summer we learnt how important fit is. Hands up, it was my fault, I am the one that oversees the garments and it was a hard lesson to learn. There were many returns and a lot of explaining to people about how to size down in these garments but if you didn't know I don't have a background in fashion design or manufacturing. But that's perfectly ok, we are constantly learning & constantly working to get better. We have put systems in place to help us with that now. But my message would be - don't be afraid to try, because you will never step out of your comfort zone if you don't. Don't be afraid to make mistakes. 
A smile can go a long way 
I will never forget walking down the street towards the shop one day during the summer and a group of people in their late 20's walked out of Outwest, bags in hand. They passed me on the street and I overheard one of them say "Those people in there were so lovely and the brand is really cool" I then walked in the door of Outwest with a huge smile on my face, not so much about the brand part, but for the people part. When I started Outwest, I always wanted it to be centred around the people. "Community" not only means the people who love and wear our products, but the people who come to work for Outwest as well. It's sometimes easy to just sit behind the counter and say "if you need anything let me know" but at Outwest, where possible, we try to give a warm and welcoming experience. It's as simple as asking people where they came from. Do they need any Dingle recommendations? And we love hearing their stories of what brought them here. 
There are some people who will come in, chat and we won't make a sale, and that's ok, because we never know who they will be talking to and say "Next time you're in Dingle visit Outwest, the people there are lovely".
Outwest Outdoor Club 
On the 25th of May this year we launched the Outwest Outdoor Club. It was something that we had wanted to do since opening the shop but didn't have the time until this summer. It was a huge investment of our time and we spoke a lot about the possibility of it just being the two of us out hiking on these planned adventures but we thought so be it, if no one comes then we will still be getting outside and back to what inspired us to create the brand in the first place. 
I am so happy to say we have never hiked alone. We start out on our first hike with a small group of our own friends, and recently we had five different nationalities on one hike which is something that we could have only dreamed of. And just like Outwest Clothing, we have big dreams and ambitions for the Outwest Outdoor Club too. But for now we are just taking it one hike at a time, and meeting some incredible people along the way!
Delegate 
Hiring our first team member was the best thing we ever did, not only for our business, but for Shane and I as a couple. It gave us time to step back from the shop front and work on everything going on behind the scenes in Outwest and to get back spending a few hours a day as a couple and not just business owners. With hiring comes delegation, something I was not very good at and something I am still working on. Since the concept of Outwest, it was only just Shane and I front and centre, I feared that without our faces in the shop, sales might slow down. But wow, I was proved very wrong. Ciúin has been an amazing addition to the team, and she has quickly grown into her role as Retail Specialist. Her vast knowledge of retail in Dingle has not only helped grow our in store business but our online business as well. Slowly but surely taking things off my plate and placing them onto hers has allowed me to be creative again and to spend time perfecting our products for our customers. All business owners feel like they have to be everything for their business and something your natural skill set can be lost in doing that. I know it's not realistic for everyone but where possible, don't be afraid to delegate, hire and let people help you achieve those business goals.
Let's Build Together 
We have big dreams for this brand, dreams that sometimes scare the shit out of me, but when someone walks into the shop and says "I saw Outwest on Instagram'' or "I came back because I love the sweatshirt I got last year, I wear it every week" those dream don't seem so scary. This community, the people taking the time to read this, are the reason we can set big dreams. It might feel like it's just our dream but the conversations we have in store remind me that it's not only us championing our dreams, it's our community. To those of you who recommend the brand to family and friends, those that have joined us on our Outwest Outdoor Club adventures, and to those that who wear our brand,not only in Ireland but all over the world, thank you so much for making our big dream feel a little less scary! :)
As Shane always says "Ah sure it's grand we will figure it out"
Bec x