Our Flagship Dingle Store
Situated on Green Street in the iconic town of Dingle. Our store is a place for us to showcase our work, to place to connect with our community and a place to hear people's stories.
Opening Hours
Monday: 10am - 5pm
Tuesday: Closed
Wednesday: 10am - 5pm
Thursday: 10am - 5pm
Friday: 10am - 5pm
Saturday: 10am - 5pm
Sunday: 11am - 4pm
Get In Touch

Our Mission
We want to be part of your journey and not just your destination, because isn't most of the fun found along the way and not the picture-perfect moment standing on top.

Our Vision
Our vision is seeing the great outdoors being explored and OUTWEST supporting you in facing the Irish elements. A world of adventure awaits..

Core Values
We stand by connection, to the outdoors, to eachother and to our world. Our priority is giving our customers ethical, sustainable and weather proof clothing, and so, we hope to be a part of your journey
Our Founder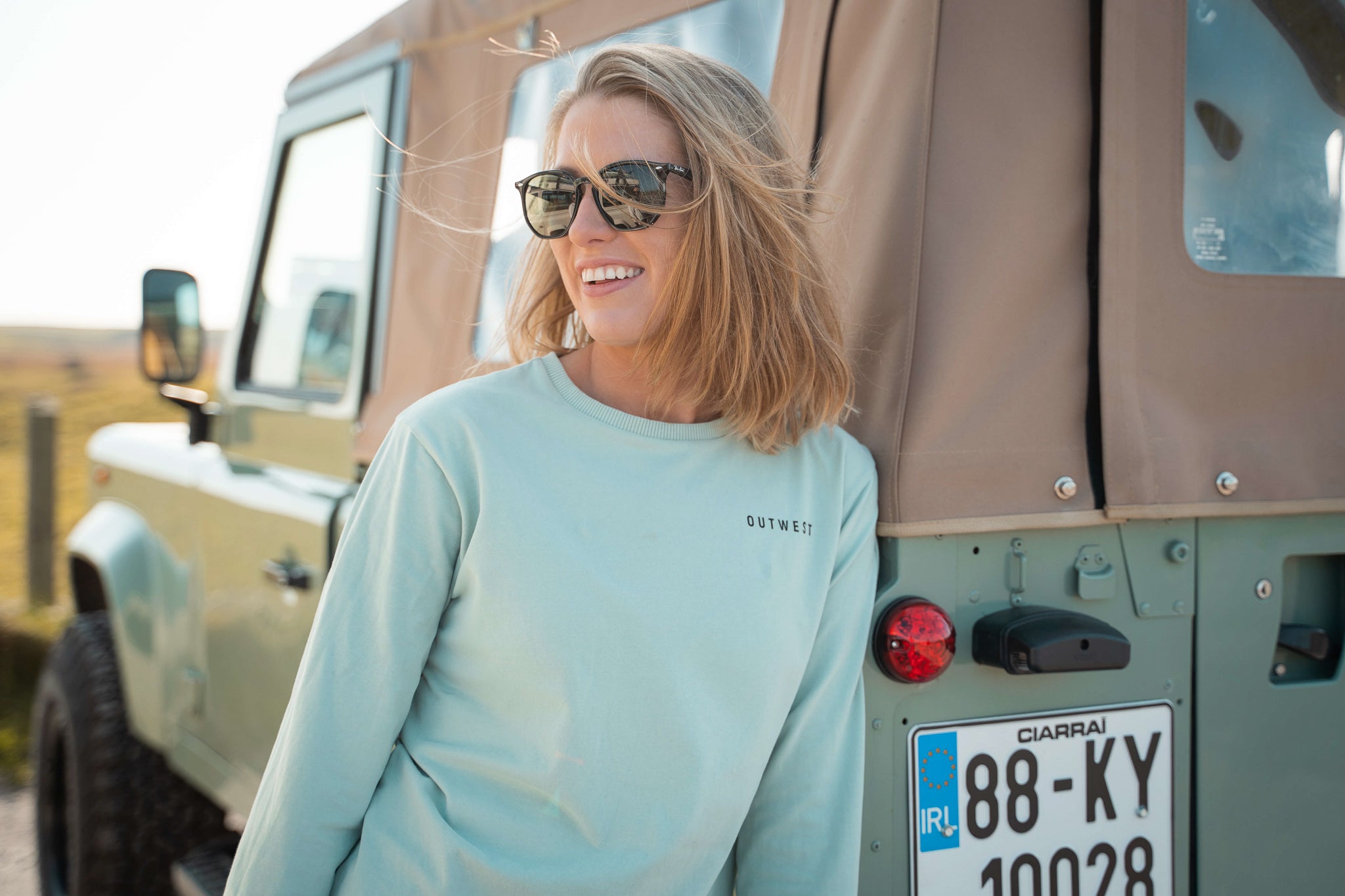 Hi, I'm Bec, founder of OUTWEST Clothing.
Out of all of this website, this has definitely been the hardest part to write, nobody likes talking about themselves but here it goes. Since I was young I was always sketching out clothes, something I was only reminded of by my Dad as I started on this journey, it wasn't an all-consuming passion but just something I would do now and again when I took a notion. Later in life, I learned that my Grandmother on my Dad's side was an amazing dress designer and seamstress, I never knew her, but her degree in Dress Design from 1949 now hangs in my office inspiring me every day. 
Growing up in Kerry was amazing, we were close to the sea and had lots of fields to play in. It wasn't until I was a teenager and thought it was the "middle of nowhere and why did we have to live here". I wanted to leave the fields and ocean views behind and replace them with city streets and 24 hour shopping.
I lived and worked in Dublin for 7 years. Starting as a personal trainer and slowly moved into a marketing and event position for FMCG products. My time in Dublin was amazing and was everything I hoped for, I had my friends around me, I found my style, my hobbies, and really what made me, me! However as time passed, I realised that maybe Dublin wasn't for me.. long term anyway.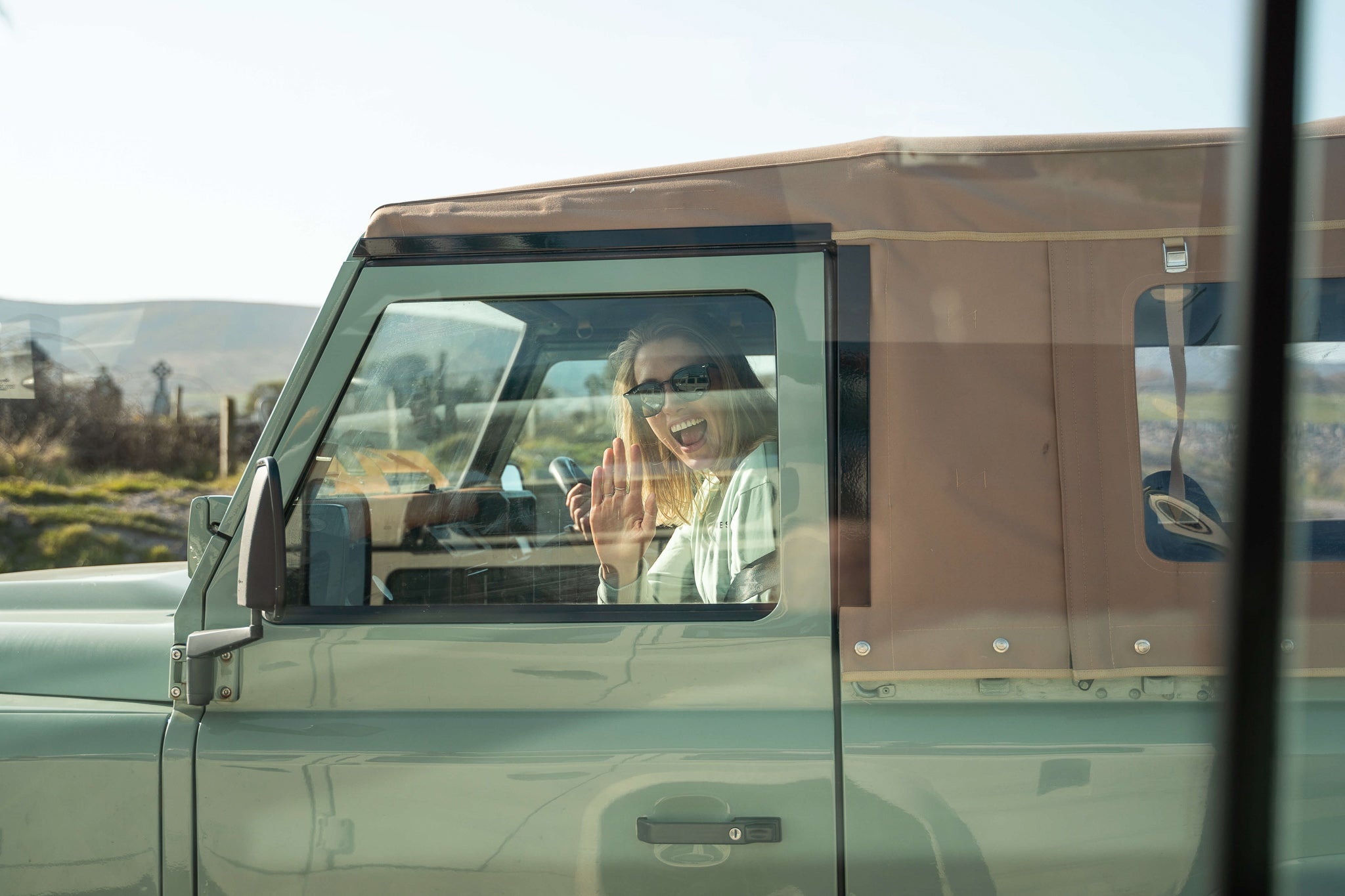 And then in 2020 the pandemic hit! I moved home to Kerry and like everyone, life began to slow down. I realised that the place I longed to leave as a teenager became the place I wanted to call home again. From the slower pace of life to the return of the ocean views in the morning, everything was telling me this was where I wanted to call home again.
Then I met Shane and he showed me the beautiful Dingle Peninsula. Something that was right on my doorstep but had never properly experienced. I knew from date two (bit keen haha) this would be my new home. The life here was something I had been searching for. A place where people say hi to you in the street, where life just seems to move a little slower, and where local businesses support each other no matter what industry you are in. It wasn't just the scenery that sold me on Dingle, it was the community too. 
OUTWEST was born from my new life on the Dingle Peninsula. Each launch and each item can be traced back to a scenic view, a conversation, or a memory with friends. We now live in Dingle in an old farmhouse with our dog Nala and aim to seek out adventures every day.